Céad Míle Fáilte to our website.
Our mission is to promote and further the craft of beekeeping across the Connemara region through the conservation of the native Irish dark bee: Apis Millifera Mellifera.
We endeavour to achieve this through the following main objectives:-

To promote the interests of the beekeeping fraternity for the mutual benefit of all;

To promote the conservation of the native dark bee, apis mellifera mellifera;

Native Irish Honey Bee Society

Promoting and advancing the science of Apiculture;

Stimulating and assisting in the establishment and maintenance of educational and training in all aspects of apiculture;

To promote the preservation of bees in the environment and to educate and encourage members of the Public to be consciously aware of the benefits of having a sound and healthy bee population in both urban and rural areas;

To hold regular meetings, Field Days and Field Trips for its members to educate, inform and stimulate discussions on issues of interest and importance to the practice and science of Apiculture;

To promote intellectual and informative debate within the apicultural sector of Ireland by the organisation of Conferences, Seminars and Workshops for the wider beekeeping fraternity and general public.
The AGM of Connemara Beekeepers Association will take place this Sunday 12th November at 2pm in The Boat Inn, Oughterard.
Federation of Irish Beekeepers' Association: FIBKA's 73rd Congress will take place 26 Aug. (10am - 5pm) in the Horse & Jockey Hotel, Co. Tipperary. CBC will have four voting members from the committee present but other delegates are welcome to attend to gain an insight into the 'national agenda' of beekeeping. If you are interested in attending please link with Dave Canavan on Facebook below.
'Association Nucs' are now available for our members, click on "News" link for further information.
Gormanstown 2017 - See Gallery below for selection of Photos curtesy of Paul F. Abbott.
Heritage Day at Aughnanure Caslte (20 Aug.):
A great day was had by all, including the Observation Hive Bees!
March 2017 Lecture Report
'On The Spot Queen Rearing or Notching' by Dara Scott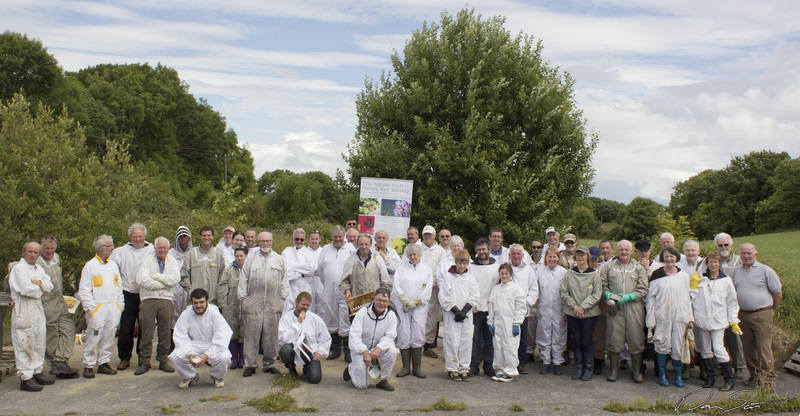 Come see us on facebook don't forget to like us.
We hope you have enjoyed your visit to our site. Please visit again at regular intervals to look at the new features and content that we are putting together.
All images © Cumann Beachairí Chonamara